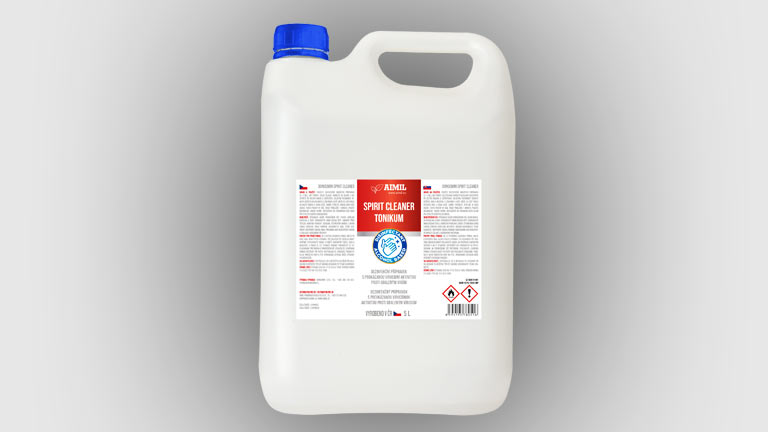 Hand sanitiser with proven activity against viruses.
---
disinfectant treatment of the hands

biocidal product

rinse-free disinfection

with proven virucidal activity against enveloped viruses
Tonikum contains alcohol and biocidal ingredients for efficient hand disinfection. Cleaning hand sanitizerin form of tonikum suitable for refilling smaller packings or changing the filling inside our disinfection stands. Tonikum containds glycerine and is gentle to skin. Thanks to emollients it protects your hands against drying out and leaves a protection film on them.
Guaranteed activity against viruses thanks to the high concetration of virucidal components. It is tested for enveloped viruses and the recipe is approved by the Czech ministry of health.

The product is perfumed (lemon, apple).
Dosing and applikation
Hand disinfection
Use a sufficient amount of product (2x3ml recommended) to cover the entire area of your hands (may vary depending on the size and condition of your hands).
Apply to your palms and spread over the entire area of your hands and wrists; pay special attention to thecuticle around your nails and folds in the skin.
Rub well until the skin is completelly dry. This procedure takes approximately 1 minute.
Use 10 a day max.. Do not use on injured skin or in case you have any skin disease.
Warning: Tonikum color may vary depending on the type of used ethanol. That does not affect the functionality.
Bezdotykový dávkovací stojan na dezinfekci Boosstimer
Scent:
no scent
lemon
apple
Parameters:
5 l / 12,3 x 19,1 x 29,8 cm
Weight:
4,75 kg +/- 0,01 kg
Reg. no.:
MZDR 16755/2020/OBP
Order no.:
CZ0684
CZ0622
CZ0615
EAN:
8594195780684
8594195780622
8594195780615
Batch no. and expiration:
see label
Content:
ethanol – 76,6%, glycerol – 2,2%, 3% hydrogen peroxide – 0,15%, aromatic substances
---